Back to School Read Alouds
Back to School Read Alouds
Back to School Read Alouds: Read alouds are one of my favorite things in the whole world. Here is a list of my best picks for beginning of the year read alouds.
How Do Dinosaurs Go To School?
I really love to read this book.  My students roar with laughter as we read about the dinosaurs that don't know how to act at school.  My freebie for this book is HERE on google docs.
All Are Welcome
I *love* this book and the message that it shares.  ALL are welcome here (at school).  For some kids, school may be the only place they feel welcome.  The book is compiled of short rhyming verses so it's fun to read, too!  For this book I created a little coloring page using MelonHeadz clipart (there's a blank page for them to draw themselves and their friends, too).  You can get it HERE.
We Don't Eat Our Classmates
We really shouldn't eat them, should we?  The story is about a sweet little dinosaur on her first day of school.  She learns to make friends and learns the lesson to treat others how you want to be treated.
David Goes to School
I introduce David with No! David.  Kids love him and the universal message of being told no.  Usually I will read it and then the next day I read David Goes To School. We discuss rules in terms of natural consequences and what would you do? scenarios.  We usually do a David Directed Drawing (free, just click link) and also the David writing page below that you can find HERE.
Angie Neal also has a great little craft and writing set you can find HERE.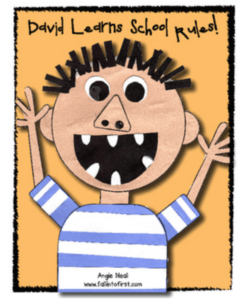 Giraffes Can't Dance
This is THE BEST book for goal setting.  The Brown Bag Teacher has an awesome post about this activity and the "power of YET."  We discuss our goals for the year and then chart the things we can't do…YET!
Chicka Chicka Boom Boom
This is an old favorite and the rhythm of the text makes it a book kids love.  I usually pair it with a simple craft from Deanna Jump's Names pack.  I use cut up sheets of letter stickers for the alphabet that the kids add to the torn paper coconut tree.
This is another activity from that pack that I do every year:
Too Much Glue
This is a great book for obvious reasons.  A dot of glue will do! I use real glue in my room right from the beginning which means we HAVE to discuss the best way to glue things and not make an "ocean of glue."  FREEBIE-LICIOUS has a freebie for glue practice.
Pout Pout Fish Goes To School
The message of this book is that may not be able to do everything YET, butt hat's ok.  You aren't supposed to, that's why you're coming to school. We will al learn together.  I do have a Pout Pout Fish art activity freebie HERE.
Interrupting Chicken
If kindergarteners or any child needs a reminder at the beginning of school, it's to try not to interrupt.  Note that I said "try not to" as opposed to "not."  It's a skill that can take a lifetime to learn.   I found this adorable free activity by Mrs Wheeler's First Grade Blog.
Tiger Tail
Fun story sort of like A Bad Case of the Stripes.  Anya wakes up with a tiger tail on her first day of school.  She learns that we should celebrate the differences between us.  I made a fun printable for the book on google docs.
My favorite books for the first day of kindergarten: