Celebrating Holidays in School
 ICelebrating Holidays in School
Celebrating Holidays in School:
Recently I was present for a discussion online between teachers venting their frustration about what to do concerning a student in their class who couldn't participate in holiday celebrations.  They were asking for suggestions of what to do instead, a portion of the comments and responses made my heart hurt.   Many sounded resentful and felt that the child could just do an alternative assignment while the other kids did the holiday one.  Why should the holiday experience be ruined for the whole class because of this one kid?  It was  the negative tone of the conversation that bothered me most, almost like this kid can just "get over it," and that it is their choice to be different so why should we as teachers change what we're doing?
Did you Know?
When I was a kid I was different.  I mean, I AM different and ALWAYS will be different (in fact, it's often one of the first words people use to describe me).  But when I was in elementary school, I was genuinely "
different,
" I was
KID DIFFERENT
.
Not only was I adopted by my grandparents
AND they were from up north (complete with yankee accents)
BUT they were a different religion.  Like, DIFFERENT, DIFFERENT,  as in 'no one knew what it was and didn't understand it at all' kind of different.
It was tough.
I remember people thinking I was weird.  I remember my 3rd grade teacher coming up to my desk, in front of everyone, and asking if I could do this worksheet that had Santa on it.  When, in humiliation, I shook my head no, she went to her desk and cut off the Santa and handed it back to me.  I hid the tears in my eyes and did the worksheet.
Being an introvert, all I wanted, more than anything was to blend in.  I wanted to be the SAME.  I wanted to speak like a southerner (I practiced "ain't" and "yonder" repeatedly in the mirror).  Always I wanted to celebrate holidays.  I wanted to have a birthday party.  Of course I wanted to say the pledge.   I wanted to go to spend-the-night parties,  I wanted to do those things not because of some higher power or because I actually wanted to or even because I thought they were right or wrong.  Honestly, I didn't care about the details.  I just wanted to fit in.  Ad wanted everyone to not notice me as being different.  I wanted them to like me.
And to be honest, kids like kids who are like them.  
It was never really an issue of the actual religion. I mean, what does a young child ACTUALLY know about religion?  Nothing, other than what their parents believe.  And that's fine.  That's the way it should be and has to be.  But when I went to school, it was an issue that grew into something more-
 I became the weirdo.   Not only could I not do any of the holiday stuff, but I had to remind my teachers over and over-  IN FRONT OF EVERYONE.  It was an inconvenience for them- I get that.
But it was traumatic for me.
I knew if I came home with a page that had a Santa on it, I was the one who was a traitor to my parents and what we believed in.
When my teachers prayed with the class before lunch (think: "God is great, God is good") all I can remember is trying to hide the fact that I wasn't saying it with the old 'yawning, hand over mouth trick' or some other equally genius plan.If I did say the prayer, I was essentially being part of "the world."  If I didn't say it, people stared at me like I was a leper.  (Let me stress, I am not talking about a 'moment of silence,' I could have breezed through that with daydreaming or an actual prayer of which my grandparents would have approved.)
I guess the point I am trying to make is this:
Do we ever want to put a young child in a position where he or she has to choose between what their parents believe and school?
For me, school was the only social experience I had… I LIVED for my friends at school.  School was the only time I could see them.  I wanted them to like me and accept me.  I remember in fourth grade we had a Christmas play that we practiced for the entire month of December.   No, wait, I didn't get to practice it or watch it.  I sat in the classroom by myself while they practiced in the gym 2 hours a day.  Honestly, I think the teachers felt sorry for me, although they never had the courage to say so.
 Kettle, Meet Pot
I know many of you are thinking, "
Jennifer, you create, sell, and promote holiday themed crafts all the time!
"    Yes, as an adult, I love celebrating holidays, even in my classroom!  BUT the difference is, if I have a child in my classroom that has an alternative view, I think I am able to understand what it may actually be like for them when I decide whether to make jack-o-lanterns
or
just do a science study on pumpkins (like the photos below).   I admit, I've been the teacher that gives an alternative assignment or lets them skip the party, but after really thinking about it, I changed what I do in my classroom.  Never do I want anyone to feel left out or to feel different in a negative way for anything, much less for something that is out of their control, whether it be race, religion, or whatever.  I tell my students that we are all the same and when it comes down to it, we are.  The differences are what make us and life interesting.  So if you choose to do holiday themed crafts, good for you!  I do, too!  But if you have a student that can't do those crafts, please take a moment to think about what it is like for them.  Consider how you'd feel if it were your child and they couldn't do the craft that everyone else is doing.  It isn't an easy road to travel, the one of being the oddball.  Should we make that journey harder?  
I am NOT saying what you should or shouldn't do in your classroom.
  Celebrating holidays and cultural differences vary across our country. I am just trying to remind everyone, myself included, to be considerate and however you choose to handle it, make it as painless as possible for those kiddos in your room that are different.
or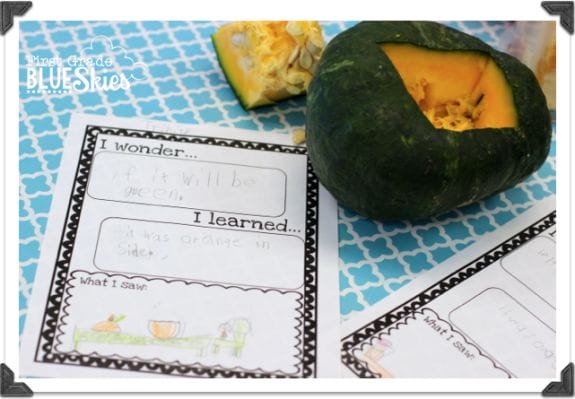 I know it really can be tough to accommodate for all the differences in a classroom! One year, I may teach all about spiders or bats around Halloween because the kids are really into it.  Another year, we may make jack o'lanterns.  It depends on the class.  It depends on my mood.  Sometimes it depends on what we have time for or what I saw on Pinterest the night before.  So is it such a stretch  for it to also occasionally depend on what a kid in my class is and isn't allowed to participate in?  One of the the great things about being a teacher is that we have the ability to teach  a unique group of kids each year…and to teach them in unique and constantly evolving ways, while hitting all the standards.  Yes, it may take a little extra time and effort, but isn't that what teaching is all about?
What are your thoughts?  How do you handle differences of religion and viewpoints? Does your school encourage celebrating holidays or is it frowned upon?